Gift Aid
Anyone who pays income tax can allow the parish to claim back the tax they have paid on any money they give to the church, either by Standing Order to their bank or placed in an envelope and put in the Sunday collection.
Our church received about £9,000 last year from the Inland Revenue without any extra cost to any of us.  So do telephone Gerry Ceclich on 01299 851188 if you would like to join the scheme.
Contact:
Gerry Ceclich
t: 01299 851188
The Giving Machine
The Giving Machine donates commission to causes when purchases are made via The Giving Machine website at www.thegivingmachine.co.uk. There are a number of major retailers listed with the Giving Machine including: Tesco, Waitrose, Amazon, Boots, Debenhams, Next and Argos. The Sacred Heart Church is listed as a cause with The Giving Machine as Sacred Heart & St. Catherine of Alexandria. If purchases are made with retailers via The Giving Machine then commission is donated to the parish. An individual can nominate up to four different causes to benefit; parishioners and visitors are able to donate in this way.
200 Club
The "200 Club" has been running successfully for many years but we are still looking for new members. The club offers a way of supporting the Parish financially while also offering a chance to win monthly cash prizes of £75, £50 or £25. Tickets are £26.00 per annum with no limit to the number of tickets that an individual can hold.
To help minimise the time spent on collecting subscriptions and administration we would prefer members, if possible, to pay in advance by Standing Order.  These payments can be made annually (one payment of £26.00) or quarterly (four payments of £6.50).  This method of payment ensures that subscriptions are not forgotten and avoids embarrassing reminders.  Alternatively, payment may be made by cheque or in cash.
The "200 Club" relies entirely on the commitment of members to pay regular subscriptions in order to fulfill its purposes. Anyone wishing to join should complete an Application Form and return it to: Kevin & Elizabeth Larkin, c/o Sacred Heart Presbytery, Worcester Road, Droitwich, WR9 8AZ.
Click here to download application form and rules. Please remember to enclose your Standing Order Mandate, cheque or cash, as appropriate (please do not send cash in the post).  Cheques should be made payable to SACRED HEART 200 CLUB. The Promoters will be happy to answer any queries and to help with the completion of forms, if required.
APF (Association for the Propagation of the Faith)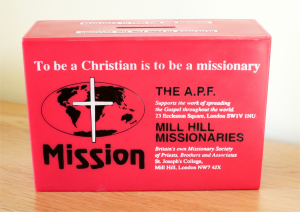 Through its familiar red collection boxes this is the organization which supports Catholic Missions worldwide. There are approximately 45 members in the parish who donate in total an average £950 per annum. The Pope has said that missionary activity is still the greatest challenge facing the Church today and you can play your part by having a collecting box in your home.
"The Association for the Propagation of the Faith (APF) assists each and every one of the Catholic Church's 1,069 mission dioceses to provide pastoral care and preach the Gospel effectively. It was founded in Lyons, France, in 1822 by a young French woman, Pauline-Marie Jaricot. She began by persuading local working people to support overseas mission by giving a farthing a week. A century later, when the organisation was established in almost every country in the world, Pope Pius XI made it the official mission-funding society for the Catholic Church.
The APF in England and Wales works collaboratively with the Mill Hill Missionary Society; the only major missionary society to have been formed in England. Mill Hill missionaries are sent to the most remote places in the world to show the love of Christ to those who are in need, both spiritually and materially." (http://missio.org.uk/)

Piety Stall
The Piety Stall operates in the Church Hall after the 8:30am & 10:30 am Mass on Sundays, every other Sunday.
A wide range of items is available from stock and special items can be obtained to order. Our regular lines include special occasion cards, rosaries, statues and crucifixes in many styles. We also have many items suitable as First Communion and Confirmation gifts. A good range of missals is available including the latest versions which will be valid until 2020 for only £8.00 & upwards. Around Christmas time we also stock Christmas cards and advent calendars.
If you are looking for a special item you are most welcome to look through our suppliers catalogues and we will add your item to our next order or make other arrangements if your need is urgent. Please feel free to ask Paul Ingram after morning Masses or via parish office e-mail: secretary@sacredheartdroitwich.org.uk
You can also access some of our range at the back of the church and in the church porch including:
- A wide range of greetings cards for every possible occasion
- A wide range of CTS booklets on many topics of faith & philosophy
- A wide range of Catholic newspapers
Both these facilities are available 7 days a week whenever church is open.
An extended stall is open at the back of the parish hall after the 8.30am and 10.30am Masses on every other Sunday.
Items can be purchased from the back of the church 7 days a week.
Social Committee
This group aims to raise money and to develop the social life of the Parish through the organisation of activities and events and to seek sponsorship and donations where possible.
Traidcraft
"With your help we can become the bridge that allows many more families to benefit from fair trade, giving them a brighter and better future."
The Parish supports justice in trade through a Traidcraft stall after Masses on Sundays and by spreading information about justice in trade. An almost full range of Traidcraft food, confectionery and paper goods and some craft items is regularly available, as are catalogues from which other items can be ordered.
Offers of help to run the stall would be appreciated.
Open at the back of the parish hall after the 8.30am and 10.30am Masses on every other Sunday.