The early Christian churches were adapted from a common form used for Roman law courts and public buildings. These churches, or basilicas, were of brick construction, were rectangular in plan and divided by rows of pillars into a main central section and two side aisles, the windows and doors were round arched and there was often an attached, or separated, bell tower. Many of these churches were decorated throughout in mosaics and marble and the pillars often had double capitals.
Our church is based on the basilica churches of Ravenna following visits made to this ancient Italian city by the donor Walter Loverdige Hodgkinson, by the artist Gabriel Pippet, and by the architect Frank Barry Peacock, F.R.I.B.A. The churches of Sant' Apollinare in Classe and San Francesco are classic examples of this. The similarity that can be seen in the following gallery is striking:
This Roman style was adopted by the architect, Frank Barry Peacock, F.R.I.B.A. for our church, but he also added four projecting chapels and a baptistry.
Mr Peacock was a partner in the Birmingham architectural practice of Peacock and Bewlay, and among his other works are the Birmingham and Midland Institute, Birmingham; St.Philip's Hall, Birmingham; St.Augustine's Priory, Ealing; the Oratory School, Reading and the Maternity Hospital, Birmingham.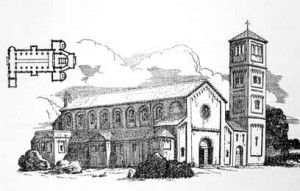 Sacred Heart and St. Catherine of Alexandria, Droitwich Spa – drawing before the church was built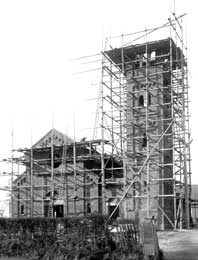 Sacred Heart and St. Catherine of Alexandria, Droitwich Spa, under construction.
Today, the exterior of Sacred Heart and Saint Catherine of Alexandria looks much the same as when it was initially constructed, with the exception of an extension of the chapel on the geographical north side of the nave. In 2014 the building received Grade II listed building status.