St Joseph's Catholic Primary school serves the parishioners of the Sacred Heart Church in Droitwich, Catholic families from surrounding villages, and, if places are available, non-Catholic families from the local area. There is one class in each year group from Reception to Year 6.
We are very proud of St Joseph's Catholic school and were judged to be Outstanding at our last R.E.  Ofsted Inspection. We pride ourselves on maintaining creativity and memorable experiences alongside implementing the new rigorously academic National Curriculum 2014.
Our school ethos and code of conduct is rooted in the Gospel Values, with Jesus Christ as our role model. Our motto is 'Following in the footsteps of Jesus'. Our mission statement is "To provide a happy, secure environment in which children will learn respect and tolerance for others and knowledge of and reverence for the Catholic faith, while pursuing a creative curriculum which will enable them to develop their mosaic of intelligences." Our church, Sacred Heart and St Catherine of Alexandria, is adorned with mosaics and we believe that each individual is like a mosaic piece- beautiful on its own but when put within the rest of the Body of Christ, working as part of a team, each individual contributes to an even more spectacular whole.
We have just launched a focus on the Jesuit Virtues, following in the example of Pope Francis. The Jesuit Virtues are the terms we use to promote character building with our pupils. They are as follows: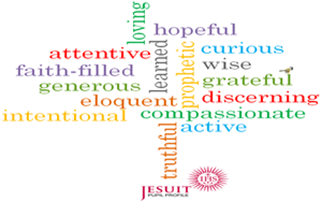 We are currently rated as Outstanding by Ofsted (both Section 48 and Section 5) in the areas of Spiritual, Moral, Social and Cultural Education and Community Cohesion. Our school strongly promotes British Values.
We are very proud to have many nationalities in our school with several different home languages such as: English, Polish, Portuguese, Irish, Malayalam, Igbo, Lithuanian, Bulgarian, Hiligaynon, Shona, Filipino and Italian. We are a Catholic school and Catholicism is an international faith; many families are drawn to our school because of its diverse, welcoming community despite being situated in a rural English town which is predominantly White British. We are proud to promote British Values in our curriculum and through the implementation of our Equal Opportunities Policy. Whilst we are a Catholic school, we also teach about other world faiths and the children enjoy examining and celebrating the similarities and differences.
The children have opportunities to learn about the current life and times of our Royal Family, as well as its deep History. The children have many opportunities to learn about a range of faiths and how they are both similar and different to Catholicism. Pupils are able to take part in a range of democratic activities with a real purpose such as acting out parliamentary style debating; standing for election and voting for school council places; House Captains and Vice Captains. They learn about what is/is not against the law in an age appropriate way, including with reference to being safe online. Our mission is delivered through Gospel Values which reflect the British values of individual liberty, mutual respect and tolerance of those of different faiths and beliefs however we would go further and say that we celebrate diversity rather than tolerate it!
We have a uniqueness as being the only Primary School in Droitwich, as well as the only Catholic School. We feed into Blessed Edward Oldcorne Catholic College in Worcester at the end of Y6 or pupils can also attend our school prior to attending the local middle school/high school system. We accept applications from non-Catholics and rank children according to criteria. In Reception years where we do not have at least 30 Catholic applications, non-Catholic children are then admitted. As there are two local middle schools in Droitwich, places sometimes arise in Y5 or Y6 or indeed sometimes in the other year groups and whilst we are usually over-subscribed, do come along and register your interest as you never know when a place may become available for your child!